Chevron Certificate of Achievement Large Award
SKU: 0674
Grade Level: K
This trendy Chevron Certificate of Achievement award is a perfect reward for students in any grade from PreK to 12. The zig zag rainbow of colors in Chevron style are accented by a gold Excellence seal to give this award a festive yet modern look.
50 colorful awards per package
8½" x 11"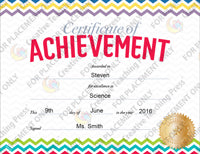 Reward students for outstanding work, good behavior and a positive attitude. This award is also a great way to recognize student accomplishments, graduations, promotions and more! Award is easy to customize for each student and special occasion.