Bold & Bright Certificate of Achievement Large Award
SKU: 2564
Grade Level: K
This simple yet colorful Bold & Bright Certificate of Achievement Award is a perfect reward certificate for students in any grade from PreK to 12. The bold black and white design includes pops of colorful confetti to give this student award a modern but fun look.
Awards easily feed through a printer or copy machine.
50 colorful awards per package
8½" x 11"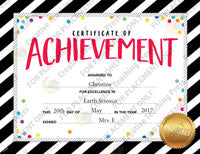 Reward students for their outstanding work, good behavior, and positive attitude. This award is also a great way to recognize student accomplishments, graduations, promotions, and more! Award is easy to customize for each student and special occasion.